---
Splash.
Approximately 15 Land Rover owners, subscribing to the Dutch mailing list 'Land Rover Kroeg' agreed to join in a tour of Drenthe, one of the more forested Northern provinces of the Netherlands.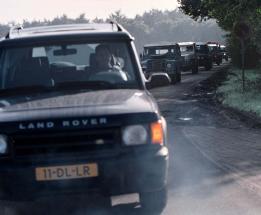 Since all of the Netherlands is flat - apart from some 10 metres high dunes near the coast and some equally high and rather flat hills in the Southern provinces - this should be a doddle. What can you meet more aggressive than a rain puddle on a green lane? A pair of simple wellingtons and my little son should be able to walk through. As a audacious beginner of off-roading, I decided to join in.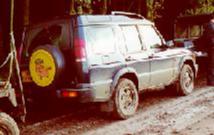 The whole Drenthe tour was to be three days, that is arriving on Friday afternoon/evening on a local campsite; then driving on Saturday during the whole day, barbecue at night; and some more driving and going home on the Sunday.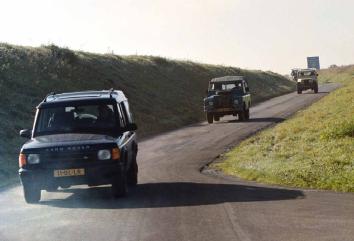 Because of other obligations, I decided to partly participate on the Saturday drive. I live approximately 150 km from Drenthe, so an early start and 1.5 hours motorway drive got me in the designated area in north Drenthe at 10:00 o'clock. By mobile phone to the tour master Marc Rengers, I learned that the troop had just left the campsite 5 kilometres further on. I was to park on the brink of Gieten village where the troop would pass by and thus pick me up. After twenty minutes they did, having detoured through the first green-lanes.

Falling in as fourth or fifth car in the line of twenty, I noticed that my car was different from the others: many Series III, several Lightweights, some Defenders, and all way older than my car. Just one other Discovery, and that older than mine too. What am I doing here, an inexperienced driver in my nearly new commuter and family car? Luckily the first streets out of the village are paved streets, leading to straightforward unsurfaced roads, which do not scare me yet.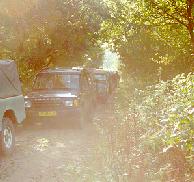 After one kilometre, it is time for a coffee break. That's quick, but since I hadn't had a brew yet, I don't complain, and get acquainted with the tour master. I hadn't met him in person yet, only on the mailing list and mobile phone. He was closing the line with his SII Pickup, and his father was heading the troop in Marc's 110. Having kindly been presented with a good hot coffee, and after having met some faces to familiar names, we start off. Now the real work starts: Green-lanes in the Drenthe.
Apart from simple unsurfaced sand roads, some through the woods, we also take a few outer borders of agricultural fields, tracks normally only used by tractors, to get to the forest paths. Although today it is perfectly sunny and bright, last week the rain has poured down. So these field borders are not much more than muddy tracks, with rather deep ruts and puddles full of water (read: mud).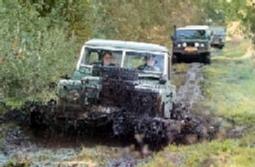 And all these Land Rovers riding on these tracks didn't do them much good, although every precaution was taken to not extensively damage tracks or lands. Marc afterward checked the whole route, and fortunately very few tracks appear to have had wear and tear, nothing problematic. He is taking care of it with the respective field owners where applicable, of course. Oh, my Discovery did give an nice indication of the muddiness: the Traction Control (TC) light went on sometimes, but that was all: the car had no problem and I was greatly amazed about its on-going attitude.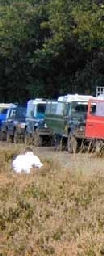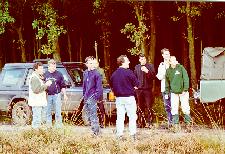 While driving through mud, on sand paths, and more mud, and muddy tracks (did I mention yet that the average track was rather muddy), I fully enjoyed myself. But unfortunately we had to stop: it was lunch-time. Actually it was much later than that, but since we had only done a third of the day's route, Marc's father went on and on, to get us a bit on the way. During the lunch break, he told me that originally during the planning phase the tour was 400 km, but due to limiting participants (like me) it was reduced to approximately 200 km. During the part that I joined in, there was only 10% on normal, surfaced roads, and the rest was on sand paths, tracks, and other off-road lanes. And all of it publicly accessible! This was what amazed me; I had not expected the Netherlands to have so many publicly available green-lanes. I'll start looking about in my own part of the country.
The next stretch included some more difficult driving. Marc's dad pulled over, and stepped out for giving directions: 'go right' for that Defender 90 in front of me, 'go right' for that Lightweight too, 'go left' for the careful beginner in his still leaking 110, 'go right' for me....Oops, correction: 'go left' for me. Although Marc's dad expected the Discovery to be able to clear the track on the right, he recommended me, being a real beginner, to take it 'easy' on the left track, since that had 'only a few big mud holes.' This was the understatement of the tour: Gosh, that puddle was way deeper than it looked, as I hadn't expected the mud to come on top of the motor hood. I like the splash, though. Great! The left and right track (no car really stuck) joined again on the other side of the field, and on it went.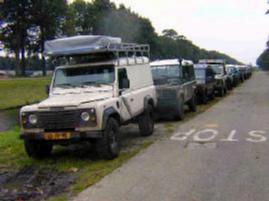 As I had to leave from home that same evening, I had planned to arrive home ultimately six o'clock. That would mean to leave the tour at three o'clock or just a little later perhaps. But I enjoyed myself so much that, on the recommendation of the tour master, I just stayed on for a little longer 'just to participate in that very interesting track.' Oh, well, at gone four o'clock the next very difficult bit came up, and Marc's dad directed us left (wimps and the other new-ish cars), straight-on (old bangers), and right (me, to the motorway ramp, home). A simple trip home concluded a perfect day out.

Text and editing Copyright © 2000 Wim van Dorst
Photographs Copyright © 2000 Jos Schuurman, Norman van de Geer, Wim van Dorst
---