---
Met Uw Deelneming, MUD September 2002
Organized by a couple of friends, I joined another nice greenlaning tour in Brabant, one of our southern provinces. The waypoint list was send ahead, and I took the opportunity to make a nice printed route on a military map. Notice where the red route finishes? That's where it was very interesting. PS. Right click on the map (save link target as...) for the Mapsource data file (28k) of the official route, which we didn't follow, of course.



About halfway we met the other group who had done the route in the other direction. We wave and trundle on, but realize that it is about lunchtime. I immediately phone Heleen, and we decide that they go just a little further until they reach the sand clearing besides the woods, that we passed a few minutes ago. We will turn around and reverse back to the same spot and the whole group will have lunch together here.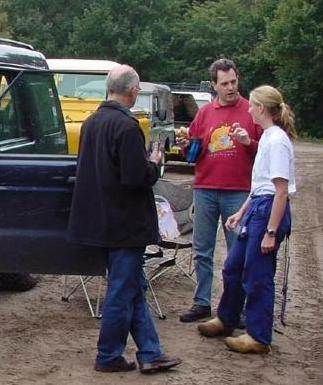 During lunch I discuss with Heleen the finer points of using a GPS. Ruud, my colleague from work and now my navigator, joins in, as he is the one handling the GPS today (after never having seen such a GPS before). And we talk about the very handy feature for reversing a programmed route. Immediately Heleen tells her friend Eric about this for them undocumented feature, and all of a sudden they can now easily follow their own route, but in the other direction.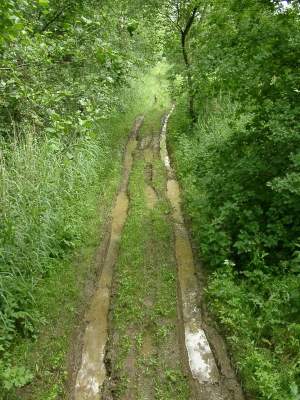 Nice is an appealing route!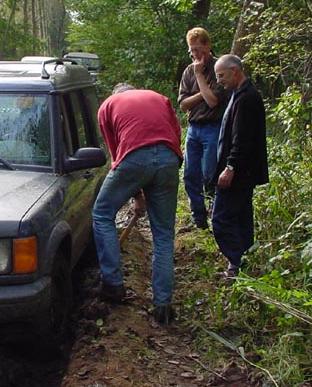 Me working hard with the spade to fill in the very deep rut that the wheels have dropped into. Ruud, my navigator, and one of the tour organizers are watching me, puzzled. `What does he think he is doing?' It did work though, sort of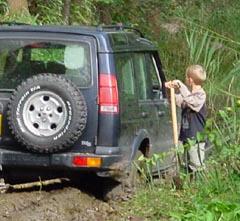 Roderick with his dad's spade: `Yo, dad, I have the path cleared now! You can drive again!' :-)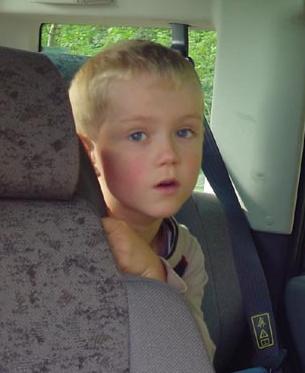 Roderick was the second navigator. Just lots of mud! What can a little boy want more?

The guys give me a little push: the road further on is sturdy enough to get a foothold again. This is on that red path of the map above.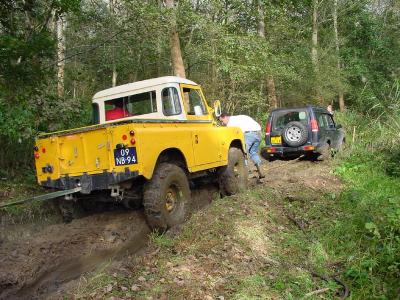 Now, am I pulling all those other Land Rover serially, or is there something else going on?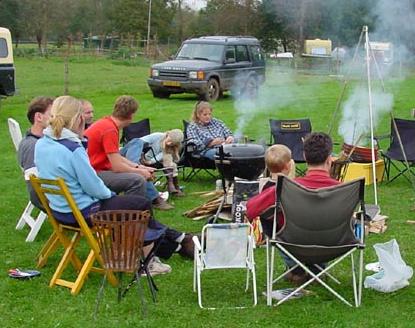 After a good day's outing, Roderick and I have a rest and a nice barbecue afterwards. Ruud had other engagements, so unfortunately he couldn't stay. Roderick ate his share, though!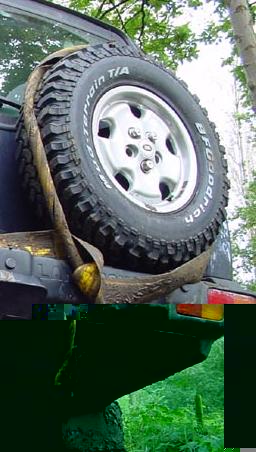 It was really muddy terrain here!

Text, and editing Copyright © 2003 Wim van Dorst
Pictures Copyright © 2002 Juro Wiggers, Wim van Dorst, Tjeerd van Linge
---