---
Happy birthday to you, dear Isolde (May 2000)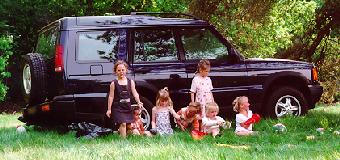 The birthday party of my oldest daughter was one week after we got the Discovery. So this is in all ways a maiden trip. The party of her choice was to go on a pick-nick with her friends. For girls of six years old that does not necessarily mean a long trip, and therefore we went to the local one-day public campsite, which is the border area of the Huizen heath.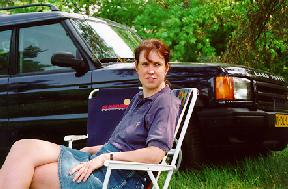 Since the heath road is technically off-road, I took some pictures of the car. and the girls. So not a real trip (well, 100m off-road is not seriously a trip is it), but some cute pictures. The pick-nick was a nice time out. As it goes on such pick-nick, we played lots of games, and well provided with prizes every girl could win at least two! And since Dad had a unfelt but unmistaken hand in determining who actually won, it showed afterwards that every girl did actually win exactly three prizes. And all in fair game.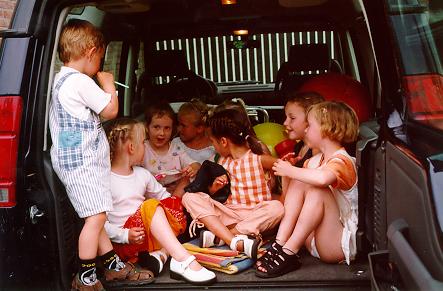 After the pick-nick we brought the kids back to their respective house. I also found out that it is very easy to fit eight little children and a big load of stuff in the back of a Discovery.

Long weekend trip to Germany (June 2000)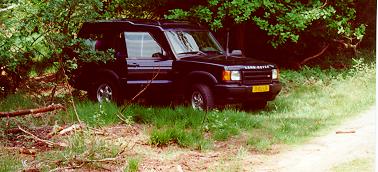 Because the long summer vacation wasn't due until much later in the year, we decided to take a cottage in a bungalow park in the long weekend around Whitsunday. Because we were rather late in booking, the only serious alternative was a German park, on the Luneburger Heide. It was good that we had a tremendously swell time in the big swimming resort, as that was also the only thing to do there.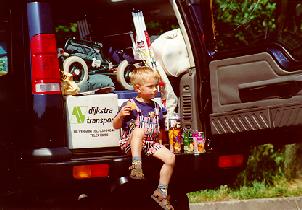 On the way back, we took a small detour over the Luneburger Heide. All surfaced roads, unfortunately, but during the lunch break I had the opportunity to park just off the road and take these pictures.

Summer vacation on Guernsey (August 2000)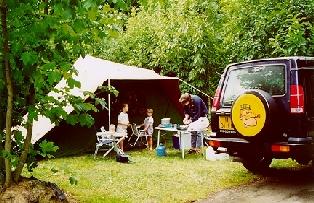 This year's vacation, obviously in the Land Rover, was to the Bailiwick of Guernsey, one of the Channel Islands, off the French coast. Of course we made lots of typical holiday snapshots, of which here the Land Rover related ones. On the way to Guernsey, we stayed one night on a French campsite. Here we pitched our tent for the first time this year.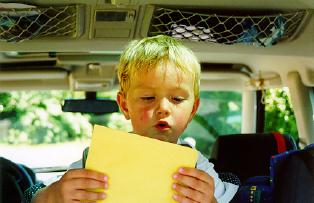 While on Guernsey, we of course needed a good map reader. Here Roderick willingly gives directions how we have to go to the beach. Since the map is made up by himself, it did give a very interesting route. Fortunately, Dad knew that half mile route to the beach also, so indeed we did get there in due time.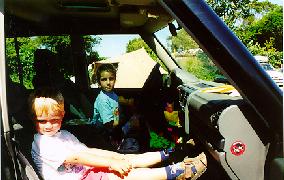 The kids loved it in the car. They didn't mind the drive to and from Guernsey, still a good 900 km and the same back. Mostly they like to play in the car while it was not driving. Why, I haven't found out yet.

Visiting Den Hout (August 2000)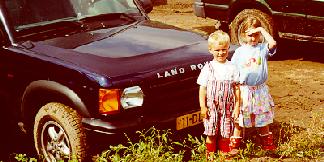 Roderick and Isolde joined me on a trip to Den Hout, a sand quarry, often used by the Land Rover Club Holland for a Sunday of driving through sand. This time rain during the night had turned the paths, more claylike than the quarry pit, into thick mud. The kids played that they were the Mud Children, especially in a designated pool area on the sand/mud beach of the sand pit lake.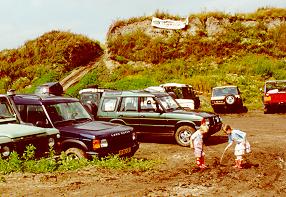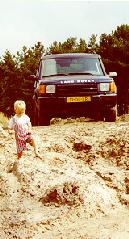 Do you see that hill? We went upthere. When other cars can it, so can mine. Thank goodness for my Discovery, since this was the first off-road experience of this type for me. And did you know that what goes up must come down too? This hill didn't have normal roads downward, apart from the one that I came up on. Well, thank goodness there is something like HDC on my car. I was too much holding on to my steering wheel to do anything else besides. This made me decide that I really ought to go on a off-road driving course, if only for the nice pictures.
Text, editing and photographs Copyright © 2000 Wim van Dorst
---